Comment Backlinks: Do They Really Work for SEO?

Most blogs and news websites have a comment section – a feature in which publishers invite the audience to comment on their published content. These sections often have a field that allows the addition of URLs to comments and automatically links to them, thus providing link juice to the commenter's website. That link is known as a comment backlink.
This subtle, unassuming feature has opened a can of worms in the link building industry – many marketers have taken advantage of comment sections to leave as many comments (with links pointing to their websites) on as many websites as possible. This is a blackhat tactic known as comment backlinking.
To an SEO novice, comment backlinks may seem like an easy and reliable way to get links on virtually any website that has a comment section. And, truth be told, this used to be one of the most popular ways to build links in the early days of SEO. The appeal is clear: why wouldn't you want to get backlinks from popular sites with high domain authority?
Naturally, you might assume that you would get some nice link juice from this – after all links from high authority sites often help improve your ranking potential in the eyes of Google, right?
However, the answer isn't that simple. Comment linking has been done to death and search algorithms have wisened up to the net effect comment backlinks give to the quality of a page. Too much comment linking is frowned upon by Google and other search engines. Getting into this practice could very easily damage your site's overall SEO profile and hamper your site's organic traffic.
The Spammy Side of Comment Backlinks
Comment backlinking as a strategy used to be open for abuse. Unscrupulous blackhat SEO managers would spam comment sections wherever they could find them – posting links and comments on sites that weren't even relevant to their own site's niche.
Imagine seeing 'spammy' comments linking to special offers on Nike shoes or "singles in your area" on a comment section of a blog post about dog training. Even in today's more SEO-enlightened times, chances are you've stumbled across these irrelevant spam links whilst browsing the internet.



Fortunately, Google and other search engines continue to deal a fell blow to comment section abusers. Google's 2012 Penguin update targeted, among other things, what the company refers to as link schemes — that is, "Any links intended to manipulate PageRank or a site's ranking in Google search results may be considered part of a link scheme and a violation of Google's Webmaster Guidelines," using "Forum comments with optimized links in the post or signature" as an example.
Penalties From Comment Backlink Spam
Not everyone got the memo, there are still some intrepid SEO managers who spam their links in comment sections wherever they can, often even using bots to do their work for them.
The problem here is that Google search bots are able to recognize unusual trends in a site's backlink profile.


If an unusually high amount of your backlinks are coming from comment and form posts versus natural mentions or other link building avenues, Google will likely associate your site with low-quality, unhelpful content. The net result is to reduce your ranking or even penalise your site, even if your site otherwise follows SEO best practices.
The consequences of following this practice are substantiated by Google's former head of web spam, Matt Cutts:
"If your primary link-building strategy is to leave comments all over the web, to the degree that you've got a huge fraction of your link portfolio in comments and no real people linking to you, then at some point that can be considered a link scheme."
In fact, some blackhat SEO managers take this into account and use these penalties in their favor by deliberately dropping links to a competitor's site in a spammy way — this is also known as a negative SEO attack.
Are There Any SEO Benefits to Comment Backlinks?
Even though Google has released algorithm updates that specifically crackdown on comment link spam, most webmasters and SEO managers are naturally spam-averse enough to avoid such practices.
Good SEO managers realize the importance of maintaining a good brand image and users are naturally wary of getting tips and advice from comment sections. This is especially true if the links seem cheaply used and irrelevant to the niche of the website they're commenting on.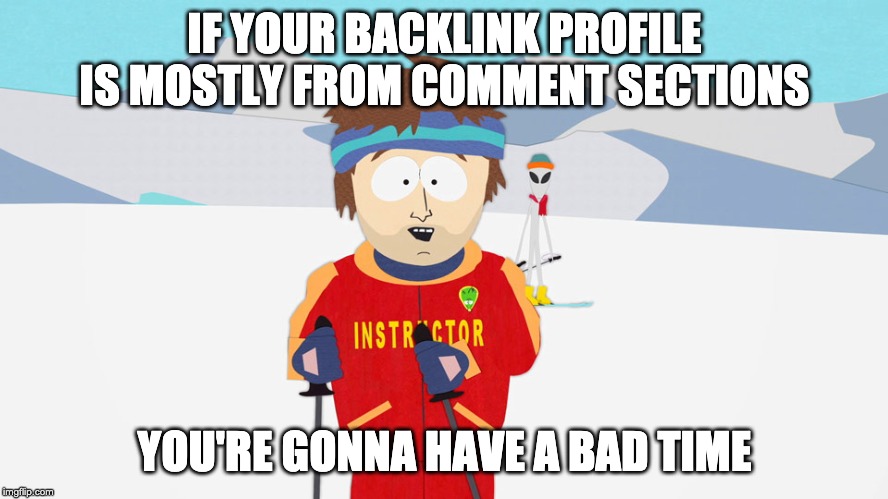 If done correctly, comment backlinks can help you build:
More traffic to your site
A reputation as an expert or authority in your space
Leads and conversions.
Tips for Getting the Most Out of Comment Backlinks
In order to avoid penalties associated with link scheming, try to make your comment as organic, relevant, and helpful as possible. Here are some strategies you can use to make SEO glam instead of SEO spam:
Post only on high-quality sites
There is an old saying that goes "You are the company you keep." In other words, how people perceive you will be significantly influenced by what sort of people (and in this case, websites) you associate yourself with. If you feel compelled to leave a comment with a link, try to do so on sites that are very authoritative in their niche (i.e. sites that have a domain authority of 60+ and ideally a high page authority, as well).
Keep your comment, and link, as relevant as possible
Both audiences and Google will look down on information and links that have nothing to do with the main topic of discussion. Even more to the point, link to a particular page on your site that is most relevant to the discussion at hand. It's one thing to comment on this article and link to your digital marketing business, but it would be even better if that link led to an article about SEO and comment linking as well.
Use your own name
"It's better often to leave your name so someone knows who they're dealing with rather than… whatever the name of your business is" Cutts says.
Below is an example of an article comment done the right way:



What's great about this example is that the person leaving the comment directly addresses the blog's original author, links to a relevant site and describes her experiences with the target site by using her own concrete details and thoughts, and uses her own name in the process. The entire engagement contributes to the discussion and genuinely serves to help the audience of the post.
In Conclusion
Can comment backlinks benefit your SEO strategy? The risk if imminent. If they're done sparingly, correctly and naturally they can drive relevant traffic. If they are overused and spammed, then they will likely be the basis for Google penalising your website.
Generally, they are only fruitful if your comments are genuinely helpful, well thought out and relevant to the subject matter. After all, that's the basis of building your authority within any community.
Should comment linking be a cornerstone of your overall SEO link building strategy? Perhaps a small string to a large bow, but certainly not to be relied upon. Google's sensitivity to such abuse has been high since Penguin, and their algorithm will likely become even savvier going forward.
Use comment backlinks sparingly – only when you can qualify your post with relevancy and helpfulness, furthering the audience's understanding or utility of a topic. Remember there are other more effective means to reach your link building goals. The immediate allure of being able to comment with links on high DA sites should be considered extremely carefully and as part of a diverse portfolio of other tried-and-true SEO techniques.
If you want an organic backlink profile that is based on the latest research into Google's algorithm updates, please click here to learn more about Reputio's link building services.